The #2 Rated Nitric Oxide Product: Troxyphen Elite
Troxyphen Elite - #2
Nitric Oxide Product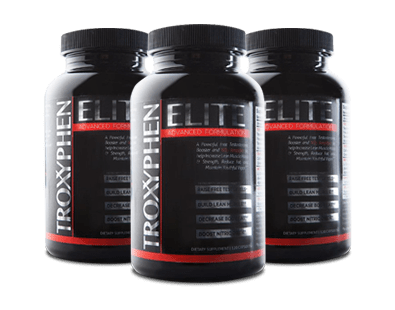 Supplement Facts
Servings Size: 2 Capsules
Servings Per Container: 30
Amount Per Serving
%DV
TEST BOOSTING BLEND
Testofen® - Fenugreek Extract Standardized for 50% Fenuside (300 mg), L-Arginine Proglutamata, Tribulus Terrestris, Potency Wood Extract, Saw Palmetto Extract, Muria Puama Powder Extract (Leaf)
500mg
†
THERMOGENIC BLEND
Caffeine Anthydrous (150mg), Green Coffee Bean Extract GCA®** (50mg)
200mg
†
NITRIC OXIDE BOOST BLEND
L-Citruline Malate 1:1, Arginine Alphaketoglutarate 2:1 (A-AKG), Carnosyn Beta Alanine, OKG (Orthinine Alpha Ketoglutarate) GKG (Glutamine Alpha-Ketoglutarate)
700mg
†
GROWTH ACTIVATING COMPLEX
Alphasize® Alpha-Glyceryl Phosphoryl Choline (A-GPC)
100mg
†
DELIVERY AGENT
Bioperine™
4mg
†
*Daily Value not established
Troxyphen Elite claims to contain a synergistic blend of all-natural ingredients that promote health.
EDITOR'S RATING
38 User Reviews
Introduction
Read this review to find out all there is to know about Troxyphen Elite, a versatile product, that essentially combines 3 different supplement types into one neat package, functioning as a testosterone booster, a Nitric Oxide booster, and a fat burner all at the same time. Troxyphen Elite claims to be the perfect choice for those people looking to address their supplementation needs on a budget, and who would prefer taking a single product instead of three different ones. Keep on reading to find out more about Troxyphen Elite Testosterone Booster.
Ingredients
Troxyphen Elite contains the following ingredients:
Test boosting blend 500 mg

Testofen Fenugreek Extract Standardised for 50% Fenuside 300 mg
L-Arginine Pyroglutamate
Tribulus Terrestris
Saw Palmetto Extract
Muria Puama Powder Extract (leaf)

Thermogenic Blend 200 mg

Caffeine Anhydrous 150 mg
Green Coffee Bean Extract GCA 50 mg

Nitric Oxide Boost Blend 700 mg

L-Citruline Malate 1:1
Arginine Alphaketogluterate 2:1 A-AKG
Carnosyn Beta Alanine
OKG (Orthinine Alpha-Ketogluterate)
GKG (Glutamine Alpha-Ketogluterate)

Growth Activating Complex 100 mg

AlphaSize Alpha-Glyceryl Phosphoryl Choline (A-GPC)

Delivery Agent 4 mg
Gelatin
Rice Flour
Magnesium Stearate
Silicon Dioxide
As you can see, Troxyphen Elite has a pretty impressive list of ingredients. Now, don't mistake this for deception. It is true that the practice of filling up a formula with unnecessary or subpar ingredients is widespread among fraudulent manufacturers in order to trick unsuspecting customers into thinking their product is more effective. However, in the case of Troxyphen Elite, the large amount of ingredients is due to it functioning as a triple supplement, offering three different effects in a single dose.
Dosage
The recommended daily dosage for Troxyphen Elite is four pills, two taken in the morning and two in the afternoon, with a minimum of 8 oz. of water. It is highly recommended to take the pills with a meal, and to allow for over 4 hours between the afternoon dosage and bedtime, as the pills might cause sleeping troubles.
Price
Troxyphen Elite can be bought relatively cheaply from various re-sellers, such as Amazon. Though each reseller has their own prices, the average price of a package of 120 pills is $34.90. The product is also available in packages of 240 pills and 360 pills. The price of this product makes it appealing to an audience on a budget, as it blends three different supplements into one cheap package.
Guarantee
Since this product is marketed through various online retailers, each seller has their own money-back policies.
Conclusion
Troxyphen Elite is a great product for users on a budget, as it combines the benefits of 3 different supplement types into one product, giving you great value for your money. This does have some drawbacks, however, since this way it performs each function to a lesser capacity than dedicated supplements. Troxyphen Elite boosts nitric oxide levels, but probably not as much as something that is specifically designed as a dedicated nitric oxide booster, and this is true for its testosterone boosting and fat burning effects as well. If you want truly effective results, and can spend more on it, we recommend choosing dedicated supplements for each effect that you are trying to achieve.
Click here to learn about our Top NO2 Nitric Oxide Booster Products.
Dave Wallace
reviewed on and gave it a rating of
3
.