The #5 Rated Nitric Oxide Product: Mascugen
Mascugen - #5
Nitric Oxide Product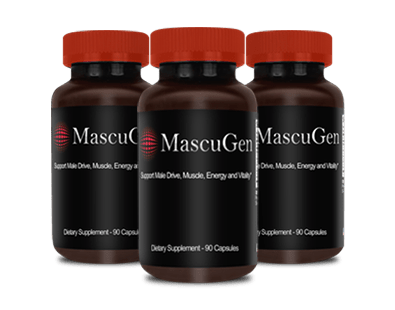 Supplement Facts
Servings Size: 2 Capsules
Servings Per Container: 30
Amount Per Serving
%DV
Proprietary Blend (per 3 capsules)
2,400mg
†
L-Arginine Alpha Ketoglutarate (A-AKG)
L-Arginine Ketoisocaproate (A-KIC)
L-Ornithine Alpha Ketoglutarate (O-AKG)
†Daily Value not established
Other Ingredients: Gelatin, Di-calcium Phosphate, Magnesium Stearate and Silicon Dioxide.
Mascugen is for the all natural treatment. Mascugen can help relieve most of the symptoms.
EDITOR'S RATING
24 User Reviews
Introduction
This is a review for Mascugen Nitric Oxide and Testosterone Booster Supplement. This product claims to increase testosterone while also increasing muscle mass, recovery, energy, and vitality. It also claims to increase energy, libido, and overall sex drive. The manufacturer's website states that it helps to burn fat quickly while also making the heart healthier. It claims to help men "reclaim their masculinity" as they age. It is specially formulated for men who are aging and want to feel like themselves again. Keep reading to find out more.
Ingredients
L-Arginine Alpha Ketoglutarate
L-Arginine Ketoisocaproate
L-Onithine Alpha Ketogluterate
L-Glutatmine Alpha Ketogluterate
Dosage
According to the manufacturer's website, the recommended dosage is 3 capsules every single day before you eat a meal. This should be taken on an empty stomach. It is noted that users should take no more than 6 capsules in a 24-hour period.
Possible Side Effects
According to the manufacturer's website there are no known side effects to this supplement. It is stated on the website that if you currently take any prescription medications or other supplements, that you consult your physician before you begin taking this supplement. This supplement is only for adults who are age 18 and older.
Price
A one-month supply is $39.99.
Guarantee
The manufacturer offers a 60-day guarantee for those who purchase this supplement. It states that if the user does not feel that they have benefited as a result of taking this supplement after 60 days then they will ship you another 60-day bottle free of charge. Note that this is not a money-back guarantee.
Conclusion
This supplement claims that is 100% natural and has the ability to add specific boosting elements for men. The manufacturer's website states that it is GMP approved and has been tested and therefore is of the highest quality. According to the manufacturer's website this product stands out amongst the competition because the formula they use is award-winning and highly effective. The website also claims that this supplement has the ability to deliver a quick and effective boost to the aging body of a man.
According to the website this supplement can stimulate protein synthesis, nitrogen retention and significantly increase muscle mass. It is also stated that this supplement can increase blood flow, burn fat, while also enhancing the overall athletic performance of any aging man. It also states that men will begin to see results with this product within a 60-day time frame. This is where the guarantee comes in. If the user does not see results in 60 days they will get another 60 days-worth of the product for free. While this is not a money-back guarantee, it shows that they stand by their product so much that they are willing to give the user more time to see results.
From everything that is listed on the manufacturer's website this product seems to be an effective way to increase sexual drive and muscle mass in men who are aging. With no known side effects, this seems like a good product – if you are a man!!
Click here to learn more about our Top NO2 Nitric Oxide Booster products.
Dave Wallace
reviewed on and gave it a rating of
3
.